Warren Buffett graces Cherry Coke cans
Warren Buffett graces Cherry Coke cans
---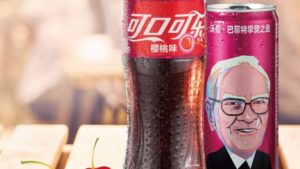 "It should come as no surprise that iconic investor Warren Buffett is one of the world's best-known fans of Cherry Coca-Cola. At almost every public appearance for a generation, Buffett has been seen taking a swig of his favorite drink," says a March 31, 2017 article (Chinese Consumers Do a Double-Take as Warren Buffett Graces Cherry Coke Cans) on the Coca-Cola website.
"What may come as a surprise is that Buffett's likeness is gracing the front of Cherry Coke cans in China to promote the drink's official Chinese launch." said the article.
The article reminds one of Warren Buffett's love for the Coke company. Berkshire Hathaway, of which Warren Buffett is the chairman, has a stake of 9.3 per cent in The Coca-Cola Company based on the FY2016 letter which Warren Buffett sent to Berkshire Hathaway shareholders.
An April 24, 2013 article ( 'I Like to Bet on Sure Things': Warren Buffett On Why He'll Never Sell a Share of Coke Stock ) on the Coca-Cola website quoted Warren Buffett on why KO (Coca-Cola Company) will always have a "Buy" rating in his book.
"I'm the kind of guy who likes to bet on sure things," said Buffett, who served on Coke's board of directors for 17 years. "No business has ever failed with happy customers… and you're selling happiness," said Warren Buffett.
"I like wonderful brands," he added. "If you take care of a great brand, it's forever."